3 Generations…. Our force, our duty: Quality, Precision & Delivery on time.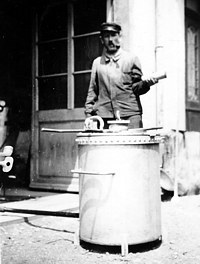 Founded in 1932 during economical depression, by Henri de Siebenthal, he bought a lathe, a drilling machine, welding installations, like electric equipment "SECHERON" and welding gas torch, mainly used at that time for the repair and the manufacture of spare parts. This tool shop did never ceased since that, to develop.

In 1938 René de Siebenthal starts his apprenticeship with his father, purchases of milling machine and a second lathe.

Then comes the war and the workshop is partially closed caused by the mobilization. First enlarging of 68m2 in 1945, death of the founder Henri de Siebenthal in 1958.

René de Siebenthal takes back the management of the firm helped by his wife until 1998 and continues the development by the purchase of various machines to modernize and increase the production capacity.
At the time of the fiftieth anniversary the corporate name was transformed into a partnership, named Rene de Siebenthal & Sons, by the arrival at the joint management of the 3rd generation Jacques de Siebenthal.
A second enlarging of 70m2 is carried out in 1982 to separate turning from milling.
L'activité principale comporte l'usinage de matériaux par enlèvement de copeaux.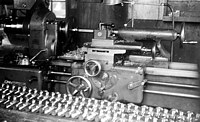 The main activity comprises the material machining per removal of chips. The department of turning is composed then of a complete range of 7 modern turns allowing to machine parts up to 2000 mm length. The milling's one is equipped at this time with 5 various milling machines, allowing the company to machine parts up to 1100-mm length.

At the end of 1987 the company took a decisive technological step by acquiring aMORI SEIKI lathe with numerical control of great capacity.

 

The use of this machine proving to be positive in the field of turning, the company bought in 1989 its first CNC vertical center MORI SEIKI with automatic 30-tool changer for milling, drilling, taping, and boring. These machines being connected directly on a computer for the programming and the bi-directional feeds of the data.
The program used for that is Virtual Gibbs and it is one of most powerful, currently available on the world market.

In 1991 for the perennially of the company, it is transformed into a family oriented limited company,

R. of Siebenthal & Sons S.A. founded with an authorized capital of 200' 000.-CHF.

The company continues to develop by acquiring new machines and modernizes the old ones, by equipping them with digital visualization.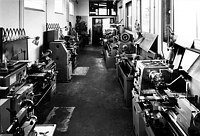 Plane and cylindrical grinding is composed of an external cylindrical grinding machine FORTUNA with 1100mm between centers, equipped with swiveling internal spindle grinding system too and a semi-automatic planing machine CNC Jacobsen.

The workshop is also equipped with drilling machines, slotting machine, as well as testing device of hardness, roughness and measurements column with digital display with resolution of 0.001mm, to be able to provide a protocol of measurement on printer. The company also obtained a certification to be able to work for the field of space research.

For welded constructions, the company has equipment to weld conventional electric and TIG.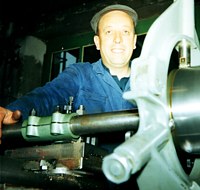 A park of 26 machines, the qualified personnel and more than 70 years of experiment of mechanical machining allow the company to provide a work of quality, high precision within microns (0.001 mm) when necessary, within the promised delivery times and especially in materials such as: Stainless steel, Hastelloy, Titanium, Tantalum, Incoloy, Monel, Nickel alloys and plastic materials such PTFE, PP, CPV, graphite and machinable ceramics as Macor and carbon and glass fibers based materials usually employed for the chemical and food industry, as well as new aluminum alloys and composite materials employed in astronautics.

The new millenium is there and one takes the steps for the construction of a new enlarging building to be able to continue to bring by the addition of a new REIDEN CNC bank milling machine of great capacity a better productivity.  In July 2001 Rene de Siebenthal leaves us, after having devoted his life to mechanics and with his company. November the 2001 construction of an enlarging begins the total surface of production is more than doubled is carried to 436m2.

The occupation of this enlarging place will be done in current 2002.
February 2002 Alex de Siebenthal is born. Will he be the 4rth generation in mechanic….?

Un tour CNC Mazak de 1500mm entre-pointe et de plus de 400mm de passage sur banc est installé courant 2005. Un nouveau centre d'usinage HAAS de grande capacité, 1600mm de course en X et de 800mm de course en Y est opérationnel depuis avril 2008..